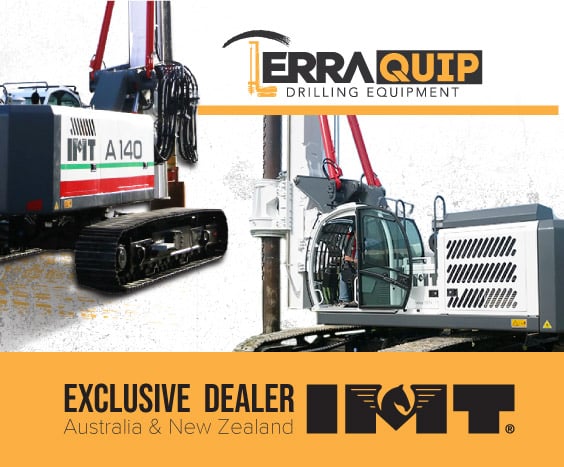 TerraQuip Drilling Equipment – Piling Rigs Supplier
TerraQuip Drilling Equipment is an Australian piling rigs supplier to the local piling contractors. We are the exclusive authorised dealer of IMT piling rigs, covering Australia and New Zealand.
IMT International works hard to maintain their reputation as a main hydraulic piling rigs supplier in US, Europe and Asia. Consequently, they work continuously on product development and improvement. Even more, receiving customer feedback on the IMT drill rgs is a main source of innovation.
It is practices like these which help keep IMT on the cutting edge of hydraulic piling rig technology. By partnering with IMT, TerraQuip is able to offer our clients the outstanding quality of a high efficiency piling rig, while still enjoying the advantages of buying locally.
TerraQuip supplies industry leading Service and Parts. Our Service & Support is offered by factory trained technicians, in a professional and courteous manner. Hence we not only understand the demands of the industry, but the entire team at Terraquip stands ready to assist.
Our experienced Sales Team will work with you and support your company in finding the right new or used piling rig. Such as compact piling rigs, hydraulic piling rigs, rotary drilling rigs and much more!
TerraQuip Drilling Equipment, as a piling rig supplier, can help selling your used equipment – just contact us and we are happy to discuss!
With our diverse range of products and services, we're sure to have the right tools to grow your business.
TerraQuip offer the following services:
We offer for sale rotary piling rigs to help piling contractors throughout a large range of projects and requirements.
TerraQuip can provide a varried array of drilling rigs accessories.  Amongst them, we supply monitoring systems, augers etc.
We help piling contractors to sell / buy used second-hand piling rigs locally or internationally.
Our piling rigs come with many extras and we always offer operator training.
HAVE AN ENQUIRY? OR JUST WANT TO CHAT
GIVE US A CALL, WE ALWAYS LOVE MEETING NEW PEOPLE!